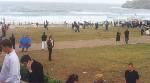 Early Morning at Bondi Beach
The new Millennium, or at least Jan 1st, 2000, was an overcast day. Thousands of people had been up all night. Most were tired but happy, and a little hungover.

The promoters of the Dance Party were subject to stringent conditions by Waverley Council and the beach was fully cleaned up by noon the next day. In the case of the Olympic Games, Waverley Council is over a barrel and state leglislation applies. Somebody had the bright idea of closing off one third of Bondi Beach. Now read on...