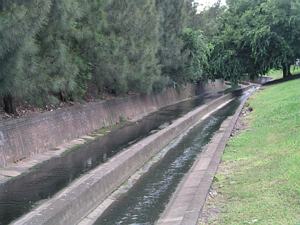 Stormwater Drain

Today, the Alexandra Canal plays a vital role as a storm water drain for the suburbs of Newtown, Redfern, Erskinville, Alexandria and Zetland.

There is almost no access on foot to the canal these days. The canal is surrounded by factories and warehouses, mainly trucking companies and companies that specialise in air freight.

References: Search Google for Alexandra Canal - there are several local history articles and also in Wikipedia. It's clearly shown in any Sydney street guide or use Google Maps.