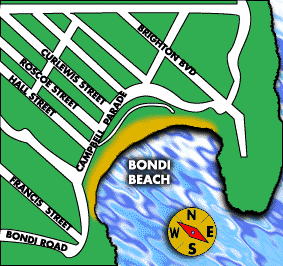 Get your bearings: The beach faces South-East and not directly east as you would expect. The main drag is Campbell Parade, with many cafes and hotels. Hall Street is the main shopping street and backpacker hangout.
Bondi is a residential suburb and, apart from the beach, is fully built up. Most buildings are three story blocks of flats and most were built before 1940.
Bondi Beach itself is not hilly and is built on sand dunes, but Bondi Road goes up a steep hill and heads west towards Bondi Junction (10 minutes on the bus) and downtown Sydney (40 minutes on the bus).