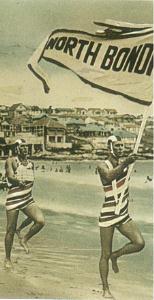 The Museum of Sydney had an exhibition called Bondi: A Biography which ran until March 16th, 2006. Although the exhibition finished years ago, these pictures below illustrate the history of Bondi.

Quote: Bondi: A Biography tells the story of this famous Sydney suburb - the people, ideas and institutions that have shaped it - and how Australia and the world came to love it.

Details: Museum of Sydney Cnr Bridge and Phillip Streets, on the site of the first Government House.
Museum open daily 9:30 to 5pm. Phone 9251-5988.